Termites can cause major structural and economic damage to homes and commercial buildings by eating the inside of the structure and leaving only a thin shell for protection from the outside environment.
Ways to recognize termite activity:
Mud shelter tubes they build for protection (pictured). These can sometimes be seen in brick foundations or in architraves.
Hollow sounding timber (meaning they've eaten away at the timber).
Sagging floors or doors.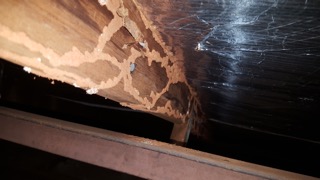 Why Termite Treatment Is Essential Immediately
Depending on where you live in Western Australia, it is our experience that up to 30% of homes have termite activity close enough to the home to require a termite treatment to protect the home and eliminate the termite colony.
The first step in protecting your home from termite damage is to have an annual termite inspection carried out by a licenced and experienced pest technician. This cost can be considered as part of your annual insurance bill as you cannot insure against termite damage.
Once we have carried out a thorough inspection to determine the extent of any termite activity we will provide you with a range of options to treat the current infestation or to install a preventative termite protection zone around your home.
Allrid is an experienced pest control company that has been protecting Western Australian homes for over 40 years. We have branches throughout Western Australia and guarantee to do our very best to look after your family and your home.
Contact us today for all your pest control requirements. We personally stand by every single pest treatment that we deliver, and offer up to a 5 year warranty for termite protection the north of the state and up to 10 years in the southern parts of WA.